Goulash Recipe Made In A Skillet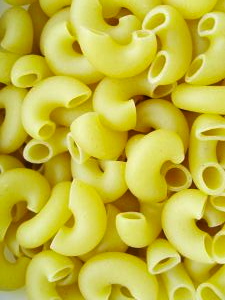 The ingredients for this goulash might already be in your refrigerator and ready to throw in a skillet with some noodles to make a hearty meal.
Ingredients:
1 and ½ pounds of ground beef (or chuck)
½ pound of elbow macaroni
½ of a green bell pepper, chopped
1 jar of spaghetti sauce (28 ounces)
1 teaspoon of garlic powder
1 small onion, chopped
1 teaspoon of salt
½ teaspoon each of black pepper and red pepper flakes
4 ounces of shredded cheddar cheese
Directions:
In a medium sized pot, cook the macaroni according to the package directions. Strain, cover, and set aside.
Crumble and brown the ground beef in a large skillet. Drain the grease and stir in the chopped onion and pepper. Allow this to cook for about 3 minutes.
Stir in the spaghetti sauce and the spices. Fold in the cooked macaroni and reduce the heat to low. Simmer for 5 minutes or until everything has warmed. Sprinkle with cheese and serve immediately.
The picture above does not represent this recipe or how yours should look. I hope your goulash recipe turns out well and tastes good for you and your family or guests.
Our Favorite Tshirt Collection