Turkey Recipe: Lunch Idea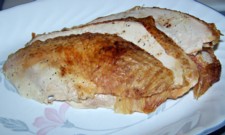 Here's a nice lunch idea that can be served with warm or cold meat. This turkey recipe hardly takes a minute to put together after you have the ingredients ready. So prepare your food early – or the day before –  you'll be serving lunch and you won't have to stay in the kitchen long to finish this turkey recipe.
Serves 1
Ingredients:
2 slices whole grain Artisan bread
1 – 1.5 cup of arugula, washed and dried
2 oz turkey breast, sliced
1 vine tomato, sliced
1 tsp organic lemon peel, grated
1 tbsp fat reduced mayonnaise
Instructions:
Combine the mayonnaise and lemon peel and spread on the bread. Place one slice of bread on a plate (mayonnaise side up) and alternately layer with arugula, turkey and tomato, ending with arugula and topping with the remaining slice of bread.
The picture above does not represent this recipe or how yours should look. I hope your turkey recipe turns out well as a lunch idea and tastes good for you and your family or guests.
Our Favorite Tshirt Collection