Couscous Recipe With Honey Pork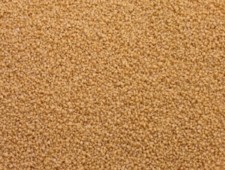 Couscous is a type of grain, and it's very healthy. Different countries eat it in many different ways. This couscous recipe is made to serve with honey pork. You actually prepare the couscous and pork loin steaks separately and then serve them together for this couscous recipe.
Serves 4
Ingredients:
4 pork loin steaks (about 6oz each)
4 tsp mustard
2 ½ tbsp liquid honey
Orange juice
10oz couscous
1 bunch green onions, thinly sliced
1 tbsp extra virgin olive oil
2 cups chicken stock
1 cup of cherry tomatoes, quartered
Instructions:
In a small bowl, mix together the honey and mustard with a splash of orange juice. Spread the glaze over the pork steaks. Preheat a grill and grill the meat until cooked through (about 4 -5 min each side).
In the meantime, place the couscous and green onions into a large bowl. Heat the chicken stock and when hot add to the couscous. Stir in 1 tbsp of olive oil. Cover and allow to stand until all liquid has been absorbed. Fluff the couscous with a fork and add the cut up tomatoes.
Serve immediately with the pork steaks.
The picture above does not represent this recipe or how yours should look. I hope your couscous recipe with pork turns out well and tastes good for you and your family or guests.
Our Favorite Tshirt Collection