French Toast Recipe For Holidays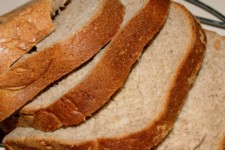 Special holidays deserve special breakfasts and this french toast recipe will help you make a special breakfast. If you use a good whole grain bread and a small amount of maple syrup this can be a healthy breakfast that tastes good too.
Serves 3 – 4
Ingredients:
2 eggs
1/8 tsp cinnamon
Dash of nutmeg
½ tsp vanilla extract
½ cup milk
6 slices bread
Butter
Fresh strawberries, washed, hulled and sliced
Maple Syrup
Instructions:
In a shallow bowl, beat together the eggs and milk. Then add the vanilla extract, cinnamon and nutmeg. Dip each of the bread slices (both sides) into the egg mixture.
In the meantime, melt some butter in a large skillet and fry the bread until each side is golden brown (about 2 – 3 minutes each side).
Serve immediately with sliced strawberries and drizzle with maple syrup.
The picture above does not represent this recipe or how yours should look. I hope your french toast recipe turns out well and tastes good for you and your family or guests.
Our Favorite Tshirt Collection