Avocado Recipe: Dip With Yogurt And Spices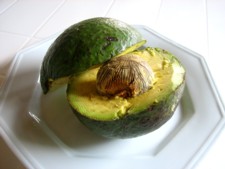 Here's an avocado recipe for spicy dip with yogurt and pepper. An explosion of flavor that goes well with pita bread or bagel crisps. The yogurt makes the smooth dip consistency as the garlic and curry make it spicy.
Ingredients:
1 large avocado, peeled and cut into chunks
½ cup plain yogurt
½ tbsp lime juice
4 cups fresh spinach, washed
1 clove garlic, minced
¼ tsp curry powder
Dash of cayenne pepper
Dash of chili powder
Salt and pepper
Instructions:
Place all the ingredients into a food processor and process until smooth. Adjust seasoning and chill in the fridge for at least an hour.
Serve at your next party (for example Valentine's Day party) with bagel crisps or pita bread.
The picture above does not represent this recipe or how yours should look. I hope your spicy avocado dip recipe turns out well and tastes good for you and your family or guests.
Our Favorite Tshirt Collection