Lentil Burgers Recipe For Vegetarians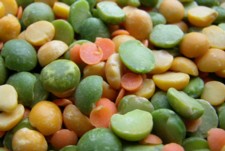 Here's a recipe to make a vegetarian burger with lentils as the main ingredient. It includes a variety of ingredients to give it flavor and stay together as you grill it.
Ingredients:
1 cup green lentils
1 large onion, chopped
2 cloves garlic, crushed
3 carrots, chopped
3 slices bread, crumbled
2 tbsp parsley
1 tbsp cilantro
1 egg, beaten
½ tsp ground coriander
Instructions:
Place the lentils into a pot of water and boil for about 20 – 25 minutes until just tender. Drain and set aside.
Put the carrots, onion, garlic, bread, parsley, cilantro and ground coriander into a food processor and whiz. Add this mixture to the drained lentils and stir in the beaten egg. Season well with salt and pepper.
Form the mixture into burgers and lightly dust with flour on both sides. Place under the grill for about 7 – 8 minutes each side until hot throughout.
Serve with bread rolls and condiments.
The picture above does not represent this recipe or how yours should look. I hope your vegetarian lentil burgers turn out well and taste good for you and your family or guests.
Our Favorite Tshirt Collection