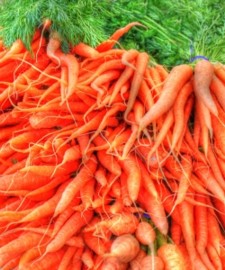 Did you know that if you eat a large quantity of carrots your skin will turn slightly orange? But don't worry – this carrot recipe won't turn your skin orange. By making a carrot recipe you are incorporating calcium, potassium, vitamin B and C into your diet as well as helping with your vision, coughing, and high blood pressure. So make this carrot souffle and enjoy!
Ingredients
1 3/4 lbs. carrots, peeled and chopped
1 cup sugar
1 1/2 tsp. baking powder
1 1/2 tsp. vanilla
2 Tbsp. all-purpose flour
3 eggs, well-beaten
1 stick butter (room temperature)
powdered sugar (to sprinkle on top of baked souffle)
Directions
Preheat oven to 350 degrees. Gather all the necessary ingredients. Wash and peel the carrots and cut in half. Place in a large pot and boil or steam until tender. Transfer to a large mixing bowl and add sugar, baking powder and vanilla while still warm. Beat with a mixer until smooth.
Mix in the flour. Add the eggs and blend. Add butter, mixing thoroughly. Pour into a 2 quart buttered baking dish.
Bake souffle for 1 hour or until the top is golden brown. If desired, sprinkle with confectioners sugar and serve warm.
The picture above does not represent this recipe or how yours should look. I hope your carrot recipe turns out well and tastes good for you and your family or guests.
Our Favorite Tshirt Collection