Salmon Recipe: Baked with Black Olive Salsa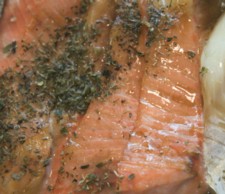 When you choose to make a salmon recipe you chose a great choice for a nutritious meat. Salmon is rich in Omega-3 which helps with heart health, depression, fights cancer, sunburn, and muscular degeneration. This salmon recipe adds some color with green peppers, red onions & tomatoes, and black olives.
Ingredients
1 salmon fillet (1-1/2 lb.)
¼ cup sliced pitted black olives
¼ cup chopped green pepper
¼ cup chopped red onion
5 cherry tomatoes, quartered
¼ cup Sun Dried Tomato Vinaigrette Dressing
Directions
Preheat oven to 400°F.
Place salmon, skin side down, on foil-lined baking sheet.
Combine, olives, green pepper, onion, tomatoes and dressing, mix well; spoon over salmon.
Bake 18 to 20 minutes or until salmon flakes easily with fork.
The picture above does not represent this recipe or how yours should look. I hope your salmon recipe baked with black olive salsa  turns out well and tastes good for you and your family or guests.
Our Favorite Tshirt Collection