Chicken Recipe: Wrapped In Bacon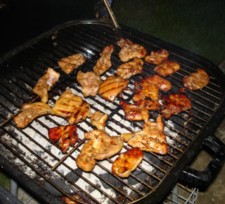 Eating chicken has many health benefits and it is a very affordable meat. By making a chicken recipe you are incorporating protein, niacin, Vitamin B6, and phosphorus into your diet.
Ingredients:
1/2 cup teriyaki sauce
1/4 cup dry white vermouth
1 1/2 tbsp. garlic, chopped
4 boneless skinless chicken breasts
vegetable oil
8 bacon slices
Directions:
In a bowl combine the teriyaki sauce, vermouth and garlic.
Add chicken and coat with teriyaki mixture.
Refrigerate at least 3 hours.
Turn BBQ on medium heat.
Brush BBQ rack with vegetable oil.
Remove chicken from sauce mixture and wrap each breast with 2 strips of bacon, covering completely and securing with toothpicks.
Grill chicken until it is firm, about 15 minutes, turning occasionally.
The picture above does not represent this recipe or how yours should look. I hope your chicken recipe wrapped in bacon turns out well and tastes good for you and your family or guests.
Our Favorite Tshirt Collection