Casserole Recipes: Scallop and Mushroom Bake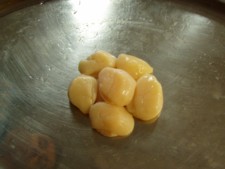 You could prepare this recipe a day ahead of when you need the scallop and mushroom casserole and just bake it shortly before you need to serve it. It has basic ingredients, minimal dishes are needed and it is easy to cook.
Serves between 5 – 6
Ingredients:
2 lbs bay scallops
3 cloves garlic, finely minced
1 cup fresh parsley, finely chopped
1 cup fresh breadcrumbs
1 onion, finely chopped
2 cups mushrooms, cleaned and thinly sliced
¼ + 1/4 cup butter
Instructions:
Preheat oven to 450° Fahrenheit and lightly grease a 9x13inch baking dish.
Melt ¼ cup of butter in a large frying pan and add the mushrooms. Sauté until the mushrooms are tender. Then add the onion and garlic and sauté for a further few minutes.
Combine the scallops, breadcrumbs, parsley and mushroom/onion mixture in a large bowl and combine well. Transfer the mixture into the baking dish. Melt ¼ cup of butter and pour over the scallop mixture.
Bake in the oven for about 15 minutes and enjoy with a tossed salad.
The picture above does not represent this recipe or how yours should look. I hope your scallop and mushroom casserole recipe turns out well and tastes good for you and your family or guests.
Our Favorite Tshirt Collection