Chicken Bake Recipe With Nacho Flavor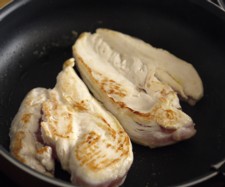 This chicken bake dish has a southwestern flavor because it calls for salsa to be baked right with the chicken. It's a fun way to eat more chicken which is usually cheap and full of protein. It's easy to see why this nacho chicken bake becomes a family favorite.
Serves 4
Ingredients:
4 boneless and skinless chicken breast halves
¼ cup reduced-fat sour cream (or natural yogurt)
½ cup chunky salsa (good quality)
½ cup tortilla chips, crushed
½ cup Mexican style cheese, shredded
Instructions:
Preheat oven to 400 degrees F. Cover baking sheet with foil.
Arrange chicken breasts on the baking sheet and slash the top of each chicken breast with a sharp knife a few times. Top each chicken breast with salsa, then sour cream and sprinkle with crushed tortilla chips. Place in the oven and bake for about 20 min. Sprinkle each chicken breast with an equal amount of cheese, return into the oven and bake until the cheese is melted and the chicken is no longer pink inside (about 10 minutes).
Enjoy with green beans or broccoli.
The picture above does not represent this recipe or how yours should look. I hope your chicken bake recipe turns out well and tastes good for you and your family or guests.
Our Favorite Tshirt Collection