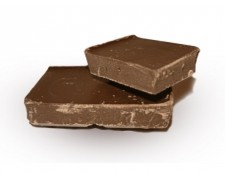 I'm always for new ways to eat chocolate. Here's a chocolate recipe for you try. It involves, brownies, milk, pudding, whipped topping, and even some heath bar. Yum!
Ingredients:
1 (19.8 ounce) package brownie mix
1 (3.9 ounce) package instant chocolate pudding mix
1/2 cup water
1 (14 ounce) can sweetened condensed milk
1 (8 ounce) container frozen whipped topping, thawed
1 (12 ounce) container frozen whipped topping, thawed
½ bag of heath bar crumbles
Directions:
Cook brownies as package tells you, cool then cut into 1 inch squares
In a large bowl, mix together pudding mix, water and sweetened condensed milk. Mix until smooth, then fold in 8 ounces whipped topping until no streaks remain.
In a trifle bowl or glass serving dish, place half of the brownies, half of the pudding mixture and half of the whipped topping. Repeat and Sprinkle heath crumbles onto top layer for garnish. Refrigerate 8 hours before serving.
The picture above does not represent this recipe or how yours should look. I hope your chocolate recipe for trifle turns out well and tastes good for you and your family or guests.
Our Favorite Tshirt Collection