Candy Recipe: Chocolate and Walnut Fudge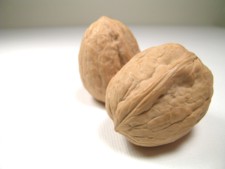 For this candy recipe you don't even need a stove, just a microwave. It can be made in a hotel or dorm room with just a minimum of ingredients and dishes. Quick to make and good to eat.
Ingredients:
12oz semi-sweet chocolate chips
14oz can sweet condensed milk
Handful of chopped walnuts
Instructions:
Combine the chocolate chips and the condensed milk in a microwave safe bowl and microwave on medium powder for about 2 minutes. Stir well. Then microwave for a further minute. Stir again and repeat this procedure until the chocolate chips are melted and the chocolate chip/milk mixture is smooth. Then mix in the walnuts and pour the mixture into a lightly greased 8″ square pan.
Allow to cool before enjoying this delicious and quick treat.
The picture above does not represent this recipe or how yours should look. I hope your chocolate and walnut fudge candy recipe turns out well and tastes good for you and your family or guests.
Our Favorite Tshirt Collection