Meatballs Recipe South Of The Border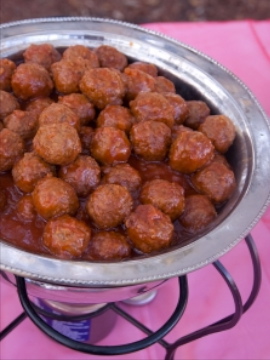 This meatball recipe starts with a taco seasoning and continues to add South of the Border flavoring with peppers and salsa. This meatball recipe would be good as a party dish, main meal, or side dish.
Ingredients:
1 1/2 pounds of ground pork –  You can also use ground beef, ground turkey or a combination of the three meats
1 packet taco Seasoning
1/4 cup dry bread crumbs, unseasoned
1 beaten egg
1/4 cup onion, minced
1/4 cup green pepper, minced
1 1/2 cups of chunky salsa
Vegetable oil (may not need if using ground beef)
Directions:
Over medium heat, using a large skillet, heat enough oil to keep the meatballs from sticking.
In a large bowl, combine the meat, egg, bread crumbs, vegetables and seasoning.
Pinch about 1 tablespoon of the meat mixture and roll it into one inch meatballs. Once all of the meatballs are ready, carefully place them in the heated skillet and brown all sides evenly.
Once they are done, remove them from the skillet and drain the grease.
Place the meatballs back into the skillet and add the salsa. Bring the salsa to a boil, reduce heat and simmer uncovered for 10 minutes or until heated thoroughly.
The picture above does not represent this recipe or how yours should look. I hope your meatballs recipe turns out well and tastes good for you and your family or guests.
Our Favorite Tshirt Collection