Baked Beans Southern Style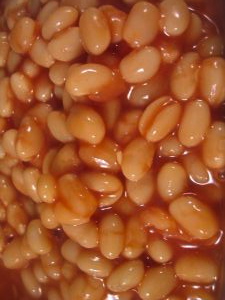 Start this dish on the stove and finish it in the oven for a dish of baked beans that will taste good and fill your belly. The ingredients are common and you probably already have them in your kitchen.
Ingredients:
1 medium sized onion, diced
½ green pepper, diced
10 slices thick cut bacon, halved
3 (28 oz) cans pork and beans
¾ cup BBQ sauce
½ cup dark brown sugar
¼ cup cider vinegar
2 tbsp. Dijon mustard (or 2 tsp. dry mustard)
Instructions:
Move your oven rack to the lowest position and preheat the oven to 325 degrees.
In a large, deep oven-proof skillet or pot over low heat, fry the bacon until it is partially cooked. You just need to cook it long enough to get about 1/4 cup of bacon drippings.
Add the diced onion and green pepper to the drippings and cook until tender – just a few minutes.
Add the remaining ingredients and bring it to a simmer. Remove from heat and place it in your preheated oven.
Bake uncovered for about 2 hours. Beans will thicken some upon cooling.
The picture above does not represent this recipe or how yours should look. I hope your baked beans turn out well and tastes good for you and your family or guests.
Our Favorite Tshirt Collection