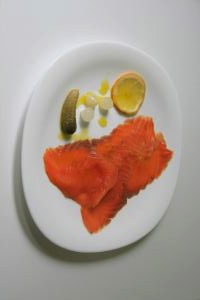 This salmon recipe has a combination of tastes from herbs to oranges with chips and smoked salmon as the base. It's easy to make because all you have to do is mix 4 ingredients with the cream cheese to top off the smoked salmon and potato chip.
Ingredients
½ cup (1/2 of 8-oz. tub) Cream Cheese Spread
1 Tbsp.  fresh chives, chopped
1 Tbsp.  fresh dill, chopped
1 ½ tsp. milk
½ tsp. orange zest
24 rippled potato chips
1 pkg.  (4 oz.) thinly sliced smoked salmon
Directions:
In a bowl, combine the cream cheese, chives, dill, milk and orange zest.
Cut salmon into 24 strips.
Place chips on a plate & add a slice of salmon to each one.
Top with cream cheese mixture.
Serve and enjoy!
The picture above does not represent this recipe or how yours should look. I hope your smoked salmon recipe turns out well and tastes good for you and your family or guests.
Our Favorite Tshirt Collection