Beer Batter Onion Rings Recipe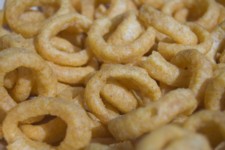 If you prefer to make it yourself instead of buying a bag of frozen onion rings – this recipe is for you.  Mix the ingredients into a beer batter, dip the sliced onion rings in and fry till crispy. Best served hot.
Ingredients:
2 large white onions, sliced into 1/4inch slices
1 cup beer
1 ¼ cup all purpose flour
1 tbsp vegetable oil
1 egg, beaten
¼ tsp garlic salt
1 tsp baking powder
1 cup beer
Extra vegetable oil for frying
Instructions:
In a large bowl, combine flour, garlic salt, egg, beer, vegetable oil and baking powder and combine until smooth. Dip each of the onion rings into the batter until well coated.
Heat vegetable oil (about 1/2inch deep) in a large frying pan and fry the onion rings until deliciously golden brown. Transfer onto paper towels to drain excess oil, and serve immediately.
The picture above does not represent this recipe or how yours should look. I hope your beer batter onion rings recipe turns out well and tastes good for you and your family or guests.
Our Favorite Tshirt Collection