Breakfast Recipes: Cottage Berry Crunch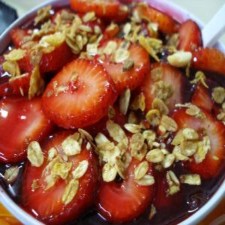 Fresh ingredients can be thrown together quickly to make this yummy breakfast recipe. Four simple ingredients: your choice of berry, bananas, granola, and cottage cheese can make this one of your favorite breakfast recipes.
Directions
½ cup  cottage cheese
2 Tbsp. granola
½ cup bananas, sliced
½ cup fresh berries
Directions
Spoon cottage cheese into a parfait dish, top with remaining ingredients
The picture above does not represent this recipe or how yours should look. I hope your breakfast recipe turns out well and tastes good for you and your family or guests.
Our Favorite Tshirt Collection