Salmon Bake Recipe With Pecans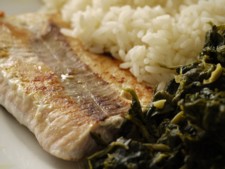 Why not get a nice salmon to bake for a romantic dinner for 2? Here's a simple breaded salmon bake recipe that you can prepare ahead of time and pop in the oven in time for your dinner on Valentine's Day, a special birthday or anniversary.
Serves 4
Ingredients:
4 salmon fillets, both sides seasoned with salt and pepper
4 tsp runny honey
2 tbsp butter, melted
2 tbsp Dijon mustard
¼ breadcrumbs
¼ cup pecans, finely chopped
Handful of fresh parsley
Salt and black pepper
Instructions:
Preheat the oven to 400° Fahrenheit and lightly grease a baking sheet.
In a small bowl, combine the honey, mustard and melted butter.
In a separate bowl, combine the breadcrumbs, pecans and parsley.
Arrange the fillets on the baking sheet and brush the top with the honey-mustard mixture. Then sprinkle with the breadcrumbs/pecan/parsley mixture and bake in the oven until the salmon flakes (the general rule is: about 10 minutes per inch of thickness of fillet).
Serve immediately with rice and lemon wedges.
The picture does not represent this recipe or how yours should look. I hope your salmon bake turns out well and tastes good for you and your guests or family.
Our Favorite Tshirt Collection