Cashews Roasted with Indian Spices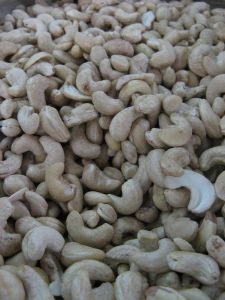 Cashews are good to eat in many ways, and if you like spicy food you should try this recipe for roasted cashews. It takes a little time, but you can make a big batch and enjoy them for a while.
Ingredients
1 pound unsalted cashews
1 tablespoon of melted, unsalted butter
3 tablespoons of packed brown sugar
2 teaspoons of curry powder
1/2 teaspoon of ground cumin
2 teaspoons of salt
1/4 cup of water
Preheat oven to 350 degrees Fahrenheit. Lightly grease a baking sheet and spread the cashews out in an even layer.
Place the cashews in the oven and toast them for about ten minutes.
In a small bowl, combine two of the tablespoons of sugar with the curry powder, cumin and salt. Stir well and set the bowl aside.
In a medium sauce pan, add the water, one tablespoon of sugar and the butter. Bring this to a boil and stir constantly.
Add the cashews to the mixture and stir well to ensure they are all coated. Allow this to continue simmering until the water has evaporated, which will take about three minutes.
Once the liquid is gone, add the spice mixture to the cashews. Toss them to evenly coat them. Return the cashews to the baking sheet and spread them out into an even layer. Roast the cashews for an additional ten minutes or until they are dry and slightly golden.
Allow to cool before serving.
The picture above does not represent this recipe or how yours should look. I hope your roasted cashews recipe turns out well and tastes good for you and your family or guests.
Our Favorite Tshirt Collection