Egg Recipe: Spicy Egg Tortillas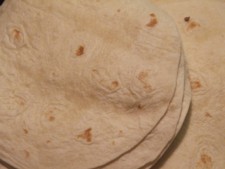 If you like to eat eggs but are tired of the normal egg recipes try your egg cooked with a tortilla and spiced up with chili pepper. This egg recipe works for breakfast or lunch, and it's healthy too.
Serves 1-2
Ingredients:
2 plum tomatoes, chopped
2 eggs
Piece of cucumber, cut into smaller chunks
Fresh cilantro, washed and roughly chopped
2 large tortillas
Handful of lettuce, shredded
Few dashes of chili powder (depending on your taste buds)
Salt and pepper
Natural yogurt or sour cream
Instructions:
In a small bowl, combine lettuce, tomatoes, cucumber and cilantro with a few dashes of chili powder, fresh pepper and salt.
Place one tortilla in a non-stick frying pan and heat on medium heat until slightly brown on the underside. Then turn the tortilla over. Beat 1 egg with some chili powder and spread it evenly over the tortilla – allow to set. Once set turn the tortilla over and cook for a few seconds and immediately transfer it onto a plate (with the egg side at the top). Add some of the salad in the middle of the tortilla, top with a dollop of yogurt or sour cream, then roll it up and enjoy! Follow the same procedure with the second egg/tortilla.
The picture above does not represent this recipe or how yours should look. I hope your egg recipe turns out well and tastes good for you and your family or guests.
Our Favorite Tshirt Collection