Chocolate and Banana Bread Recipe – Moist and Delicious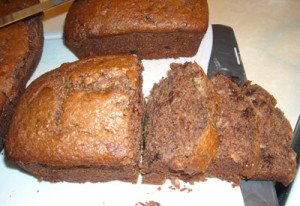 Banana bread has become a staple in this household. It's filling, it's delicious and for a baked good, it does have some nutritional qualities.
We also make it with whole wheat flour as there is no discernible difference in taste between using whole wheat or white flour.
And even if there was a difference, I'd still make the troops take their whole wheat flour and like it! 🙂
This recipe makes 9″ x 5″ loaves.
Ingredients:
• 6 ripe and mashed bananas
• 1 cup soft margarine
• 1 ½ cups white sugar
• 4 eggs
• 1 ½ teaspoon vanilla
• 1 cup buttermilk
• 3 cups whole wheat flour
• 2 teaspoons baking soda
• ¼ cup cacao powder
• ¾ cup chocolate chips
Preparation
Preheat oven to 375 F.
Lightly oil regular sized loaf pan or 2 9" x 5 " loaf pans.
After you have mashed the bananas, place them in a large bowl with the margarine, sugar, vanilla and eggs. Whisk or use an electric mixer until the ingredients are creamy. Add the butter buttermilk and whisk until smooth.
Add the flour, baking soda and cacao powder. Whisk until combined fully, but don't over mix. Fold in the chocolate chips.
Pour the batter into your loaf pan(s) and bake on the middle rack for about 50-60 minutes. Your banana bread is done when a toothpick is inserted in the middle and comes out clean.
Our Favorite Tshirt Collection