Easy Eggless Eggnog Vanilla Pudding Recipe
If you're a stickler for traditional eggnog, you might be surprised by this eggless eggnog vanilla pudding recipe.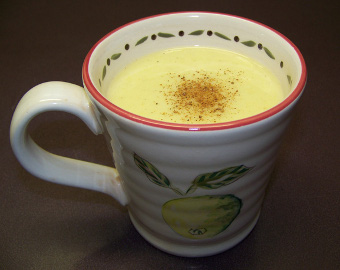 Eggnog has always been a favorite Christmas season drink at our house. I remember when my mom used to make it and I'd watch in awe as she mixed everything with her hand mixer. I could never wait until the nog had cooled in the refrigerator and she always allowed me to have one little taste.
Now that I'm (much) older, I still love eggnog and have some to see why all those adults were fond of adding rum to theirs. Spiced rum is the best, of course.
Unfortunately, one of my cousins-in-law has an egg allergy, so we don't serve the traditional version during our family dinner. Instead, we use this eggless eggnog recipe, but it's absolutely delicious. For those who fear consuming raw eggs, they can sip away with confidence. Plus, I've introduced the beverage to our Sikh neighbors who don't eat any eggs, so it's perfect version of this Western treat for them.
Note, this recipe calls for rum flavor extract, however, you can add the real stuff if you prefer. I just make it this way, so old and young can enjoy it.
Ingredients for Our Eggless Eggnog Vanilla Pudding Recipe

5 cups milk
1 (3 oz) package Jello instant vanilla pudding
1/2 cup sugar
2 tsp vanilla
1/2 tsp nutmeg
1/4 tsp ground cinnamon (optional)
1 tsp rum flavored extract (optional)
How to Make It:

In a large bowl, using a mixer, blend instant pudding with 1 cup of milk.
Allow pudding to sit until thickened, about 10 minutes.
Once thick, add the nutmeg, vanilla, sugar, rum extract and cinnamon.
Finally, add the remaining 4 cups of milk and mix well. Chill for several hours or overnight if possible.
Pour into serving cups and dust with nutmeg or cinnamon.
There you have a delicious eggless eggnog. I'll post a more traditional recipe soon. Until then, cheers and have a great Thanksgiving weekend.
Oh, and in the meantime, if you're looking to incorporate some eggnog into your Christmas baking, check out this recipe for eggnog pound cake. It's made with a cake mix, so if you're short on time, it's a quickie.
Our Favorite Tshirt Collection