Easy Christmas Ham with Glaze Recipe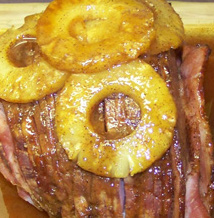 Ham is always a favorite in this household and I love to make it at Christmas because it's super easy and always impressive. Leftover ham is also great for sandwiches and cut up for other dishes. Stock up on ham when it's on sale to make plenty of meals. For now, let's talk about making a Christmas ham with glaze. Yum!
This recipe takes just three simple ingredients and 5 minutes of prep work. We usually have this as our Christmas Eve meal as finish our final preparations for the holiday.
Ingredients
1 pre-cooked ham
1 can slice pineapple, reserve juice
¼ – ½ cup brown sugar
Directions:
Place the ham in an appropriate size baking dish. You don't need to use a fancy roasting dish for pre-cooked hams. Make several slices to the top of the ham if it doesn't come pre-sliced.
Add several pineapple slices to the top of the ham.
In a small bowl, mix the reserved pineapple juice & brown sugar to make a glaze. If there isn't enough juice, you can add a little water or blend up the remaining pineapples. Pour this over the ham and pineapples.
Bake according to ham package directions and then enjoy. Served with mashed potatoes and your favorite vegetables. The glaze tastes yummy on the potatoes too.
If you have leftovers:
Make thin slices for sandwiches
Dice it and put it in a pasta or salad
Serve it with eggs and fried potatoes for breakfast
Make a quiche or omelet
Make a pizza – try ham and pineapple if you also have leftover pineapple
Make soup – split pea with ham is delicious
Make some bread or muffins – instead of just cheese bread, add some ham too
Our Favorite Tshirt Collection