Christmas Gift Baking: Ten Baked Goods that Make Great Gifts
Do you love to bake? Baked goods make wonderful Christmas gifts, and if you love baking, they are a great excuse to get into the kitchen!
We often bake homemade gifts for the grandparents and great grandparents because they already have everything they need and this is a nice thoughtful gift. Plus, having some extra Christmas gift baking on hand can come in handy when someone stops by unexpectedly.
When it comes to giving baked goods as gifts, some work better than others. Some baked goods get soggy if left out for a day or more, whilst others keep well. Others can be frozen and given as gifts as the need arises. Sticky frostings can make gift-giving tricky, too.
This list of ten baked goods takes those characteristics into consideration, and it's not just for Christmas season giving. Many of these items can be given as gifts any time of the year.
Get out your mixing bowls, and choose some lovely gift ideas from this list.
1. Baking Sweet and Quick Breads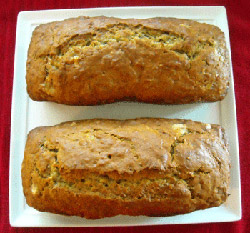 Banana bread, zucchini bread, cinnamon bread, gingerbread, and other sweet breads make wonderful gifts. Baked in a loaf or Bundt pan, these breads freeze very well – the recipient will never know it's not freshly baked.
2. Christmas Muffins
Your favorite muffin recipe will likely make a great gift. Also easily frozen, muffins don't require frosting and the varieties are practically endless. Here are some types of muffins to consider:
* Chocolate chip banana
* Jelly-filled (place a small amount of batter into the bottom of the muffin cup, dollop on a teaspoon of jam or jelly, and top with more batter)
* Apple (stir chunks of grated or chopped apple into a basic muffin recipe; season with cinnamon)
* Carrot (think carrot cake)
* Spice or gingerbread
3. Baking Christmas Cookies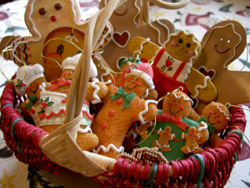 There are so many cookies that freeze well and have good gift-giving qualities. There are also some that don't! Meringues, for instance, don't usually do well as gifts unless you give them within hours of making them (which might work for you depending on your schedule). Gooey cookies may or may not work, depending on the container you have. Here are some cookie types that make good gifts:
* Chocolate chip (these freeze well)
* Gingerbread snaps or "people" (also a good candidate for freezing)
* Sugar cookies
* "Icebox" cookies
4. Sheet Cakes Make Great Gifts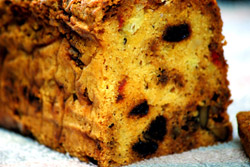 Sheet cakes work a bit better than layer cakes for giving. You can put them in a box and not worry about frosting on all sides. You can also freeze sheet cakes, and just pull them out of the freezer and frost them right before giving. A classic fruit cake is wonderful for those who like it (find out first!)
5. Make-Ahead Shortbread
Old-fashioned shortbread is a great "keeper," and you can cut it into all sorts of shapes like cookies. It's also very delicious, of course!
6. Bake Brownies and Freeze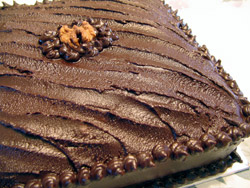 Whether you use a mix or make them from scratch, brownies freeze well and stand up well to being put into containers.
7. Alternative to Baking: Fudge
Maybe it's not actually baking, but fudge is a winner during the holidays and any other gift-giving occasion.
8. Everyone Loves Peanut Brittle
Classic and tasty, peanut brittle can be made in large batches and portioned for multiple gifts.
9. A Variety of Breads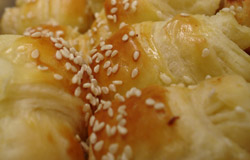 Baked goods don't have to be sweet! Bake some lovely loaves of bread and freeze or give right away. Here are some kinds of bread you can bake for gifts:
* Whole wheat
* Basic white
* French (needs to be frozen if not given within 12 hours)
* Herb
* Multi-grain
10. Nut Clusters for Chocolate & Nut Lovers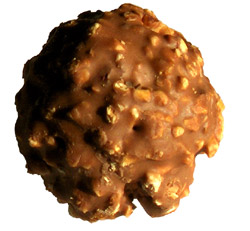 Almonds, walnuts, peanuts, and hazelnuts make wonderful clusters when coated with chocolate. Store in the refrigerator or freezer.
This year, we're actually going to be making chocolate-covered cherries as gifts (but shhh…don't tell anyone), so we're making a test-batch this weekend. That's another thing, if you are planning to bake a ton and use a new recipe, test it first and test it early or you might be disappointed.
Our Favorite Tshirt Collection