Halloween Party Ideas – with a 40th Birthday Party Thrown In
Each year, we throw a big Halloween party and with my husband turning 40 this October, we knew it had to be even bigger and better. Here are a few things we put together to celebrate this momentous occasion and hopefully, these Halloween party ideas will be useful to you.
Halloween-Themed 40th Birthday Party
Our theme was to mourn the loss of hubby's youth…"RIP to Zack's Youth". He was a little annoyed at first, but he turned out to be a good sport and the guests absolutely loved it. His grandma thought it was hilarious and kept telling me how she was sorry for my loss (given that I came dressed as a widow).
One of the first things we did for this funeral theme was to set up the graveyard outside. I simply took a Sharpie marker to one of the styrofoam gravestones we already had.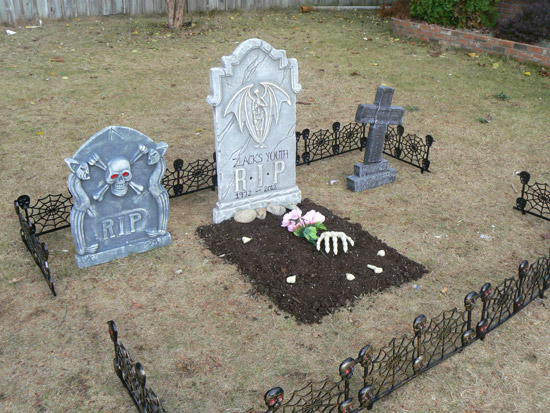 I also placed some potting soil in front of the grave and purchased some cheap plastic bones to poke out from the dirt. The finishing touch was some plastic flowers for this fresh grave site.
When the guests walked in, they were greeted with a funeral wreath and funeral guest book.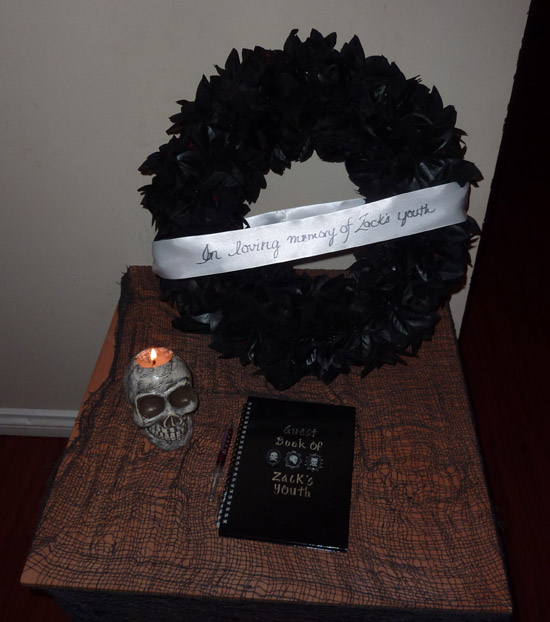 For the wreath, I got a plain styrofoam wreath ring from the craft store. Then I got some silk flowers from the dollar store. These flowers actually started out as red poinsettia and were just $1.25 a bunch. I used 5 bunches and spray painted the flowers black and then arranged them on the ring.
For the guest book, I got a plain black notebook and embellished it with some scrapbook stickers and lettering.
The birthday cake was grim-reaper themed with the wording, "Relax, I'm just here for the cake" on it. I found a picture of Death from Family Guy and followed the same gel transfer technique I followed for my Pirates of the Caribbean cake.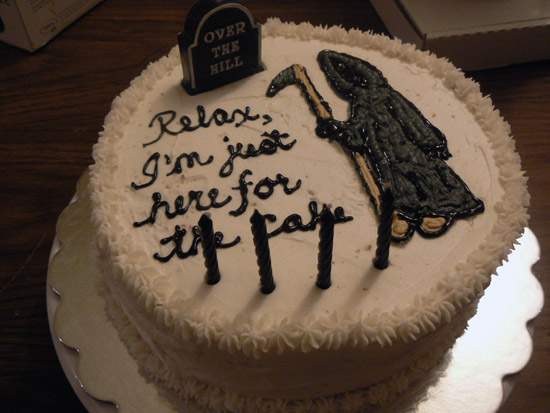 And, of course, the traditional "Over the Hill" tombstone candle was a necessary embellishment.
Other Fun Halloween Ideas
Last year, I decided that I wanted to purchase a brain jello mold, so I'd have it in time for this year. Unfortunately, I promptly forgot to that, but was delighted to find some foot molds at my local dollar store.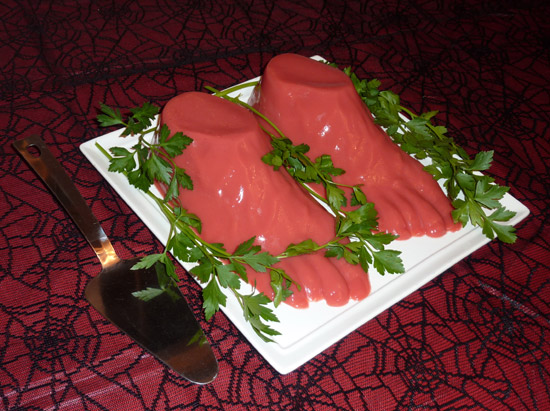 To make the flesh colored jello, I followed the instructions here. My local grocery store didn't have watermelon jello, so I decided to combine half strawberry and half peach. It turned out a bit darker than I wanted, so next year, I'll just stick with peach. All you need is a few packs of jello, green food coloring and some evaporated skim milk to make these beauties. And, of course, don't forget fresh parsley for garnish.
Because we had a lot of guests at the party and the cake was fairly small, I also made a bunch of cupcakes that could easily be passed around. I actually got the idea from Wilton and their royal icing knife decorations. However, they were $7.99 for 12 at our local store ($5.99 online) and since I was making over 70 cupcakes, that was just a little steep. So I set out to make my own.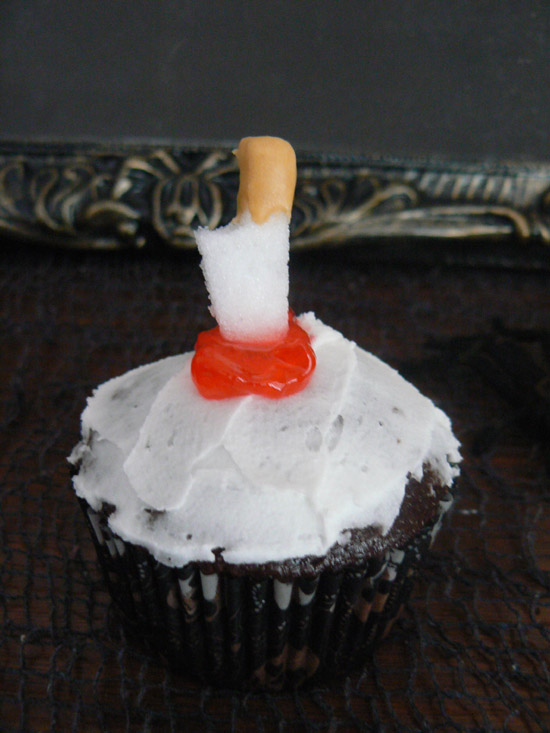 To make your own sugar molds, you need the shape you want and some silicone putty
. Since I didn't have a tiny knife to use as my shape, I had to make my own. For that, I raided my daughter's Crayola air dry clay
and made the shape I wanted. Then following the instructions, I made the mold using the silicone putty.
To make the sugar knives, I simply combined 1 cup of sugar, 2 teaspoons of water and a teaspoon of meringue powder. This was enough to make about 80 small knives, so adjust if you're making a smaller number of shapes. I used a knife to scoop the sugar mixture and press it gently into the mold. Then I flipped the mold over onto some parchment paper and gently squeezed it out.
Once the white sugar knives were dried, I took some royal icing mix
(it's much easier to work with a mix than make your own because the mix doesn't harden as quickly) and colored it and used a small butter knife to spread the icing on as a handle.
Then, for the cupcakes, I decorated them with basic white icing. In retrospect, I might have used a light chocolate icing, just to create more contrast with the knife. Then, I used some clear piping gel
that I colored red to create the look of blood and then plunged the knife in.
Keeping with our spooky theme, party goers were greeted by a special package in the drink cooler. This was a $1.25 purchase at our local dollar store and worth every penny. You can also get one from Amazon
if you can't find one locally.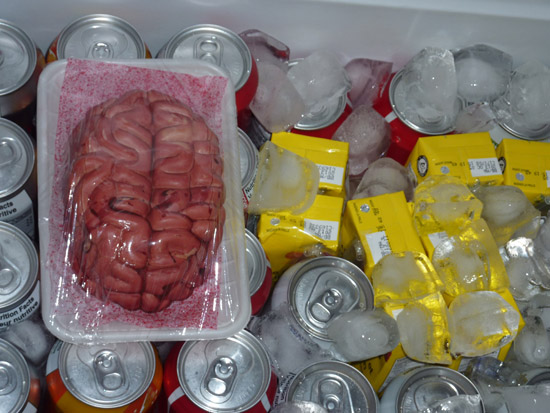 Enhancing the creepiness, our dining room cabinets were transformed with a few special additions, including our Halloween-themed wine bottles.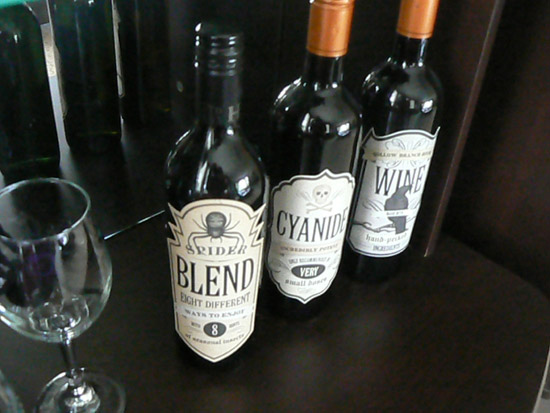 These are actually Martha Stewart Halloween Wine Labels
. Because I just wanted them to be a display that I can use each year, I simply took empty wine bottles, scrubbed of the labels (I used hot water and SOS pads) and then applied the labels. I filled the bottles with water dyed with dark food coloring, so they looked like they were full of white wine.
My favorite label is the one the Cyanide one that says, "Only recommended in VERY small doses."
Then, for a little more creativity, I made some specimen jars with tips I found from Evil Mad Scientist.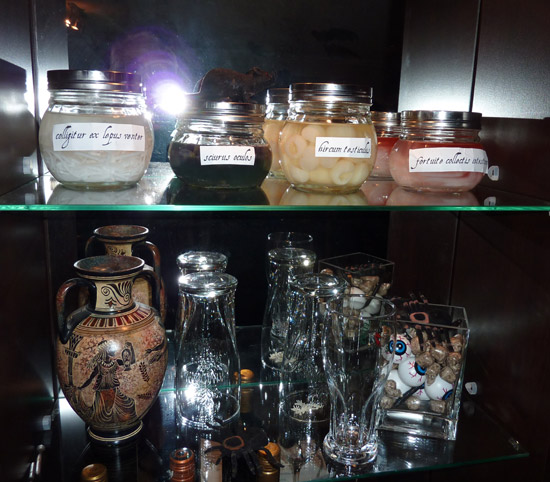 From left to right in the picture above, we have:
Rice noodles, floating in the starchy water I boiled them in.
Frozen peas in some syrup I added dark food coloring to.
Canned longan in their own syrup from the Asian section of the grocery store.
Canned palm seed slices in their own syrup, also from the Asian section. I floated a little Halloween blood on the top for extra ick factor.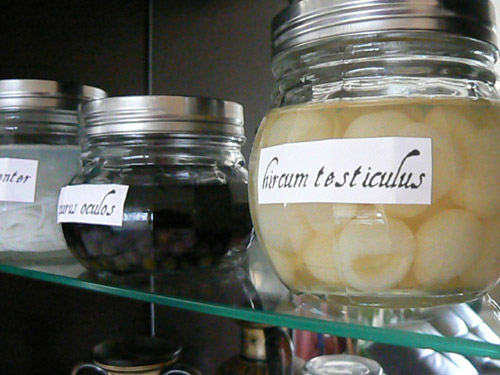 I decided what to say each jar was and then used Google Translate to translate into Latin. Oh and the creepy font comes from Font Squirrel. I'll let you guess what some of these are. 🙂
Overall, the party was a great time…a lot of work, but well worth it. Just about everyone came in costume, but for those who didn't have one, they came in funeral attire as we came together on this somber (haha) occasion.
Our Favorite Tshirt Collection