Funny Gifts for Women for Christmas
If you're not sure quite what to get a particular woman on your list, why not just have fun with it? Here are some great ideas for just about any woman, whether she's a wine-lover, sarcasm maven or simply a wonder woman. I've got a few of these funny gifts picked out for women on my list.
Funny Gift #1: Remote Control Your Man
Finally, revolutionary device to help women turn their man into the man truly of their dreams. This Control Your Man remote has buttons to have their man bring chocolate, listen and even close the toilet seat. It'll even curb snoring, farting and belching with just a click.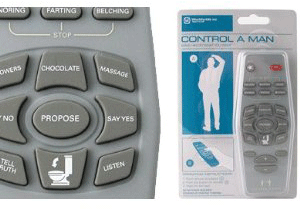 It's true that none of these buttons work in the real world, but she can dream, can't she? We actually got the Control a Kid as a gift a few years back and we thought it was hilarious.
Funny Gift #2: Porn for Women
Here's a book that caused a stir not too long ago, it's Porn for Women. Relax, it's not gratuitous naked pictures of  men. No, it's men performing domestic tasks with equally titillating captions. Sure, they have their shirts off in some of the pictures, but not all.
An example of what you'll find inside, "Ooh look, the NFL playoffs are today. I bet we'll have no trouble parking at the crafts fair" or "Why don't I get a minivan, so you can drive something fun?"
In this one below, we see man doing the laundry saying "As soon as I finish the laundry, I'll do the grocery shopping. And I'll take the kids with me, so you can relax."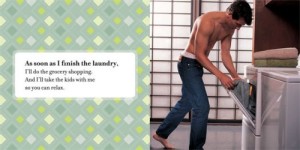 They've also got other titles like "Porn for Women of a Certain Age", "Porn for New Moms" and "Porn for the Bride."
Funny Gift #3: Red Neck Wine Glass
This one's for the wine lover on your list that isn't afraid to show her redneck side. They Red Neck Wine Glasses are mason jars with an elegant stem and they even come with a lid, so there's no spillage. They're durable too for those more animated wine drinkers.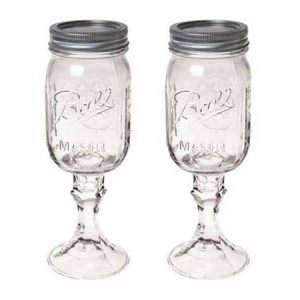 Funny Gift #4: Metal Signs
You see these vintage-looking metal signs everywhere and they often come with great images and sayings. Here are a few examples.
Funny Gift #5: Realistic Wonder Woman T-Shirt
If she's a Wonder Woman fan and has a little spunk, she'd love to wear this realistic-looking Wonder Woman t-shirt, compete with a cape. The cape is detachable on this official DC Comics shirt.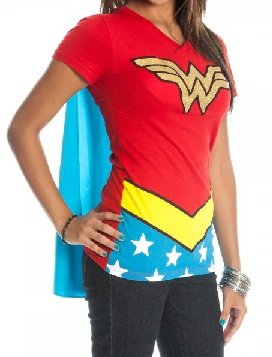 You can also find similar shirts for Supergirl, Batgirl and more.
Not as Funny, But Awesome Gift #6: Personalized Casserole
If she loves to cook and seems to have everything she needs, she probably doesn't have any of these personalized casserole dishes. I would so love this…hint hint to my family! These personalized casserole dishes can be customized with 2 lines and are very reasonably priced.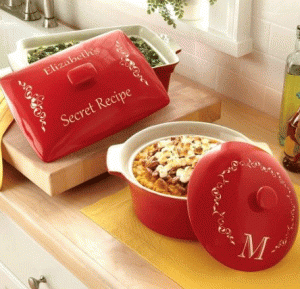 Funny Gift #7: Sarcasm Mug
If the woman on your list is full of sarcastic joy, this sarcasm mug might just be the perfect gift for her.  This mug features a computer status bar and the caption that says, "Sarcasm Loading…Please Wait."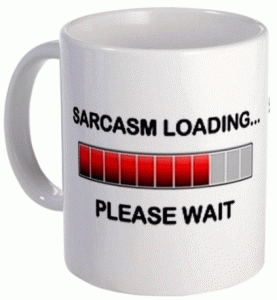 Or if she's not at her best until she has had her coffee, consider this cup that changes when it's filled with coffee.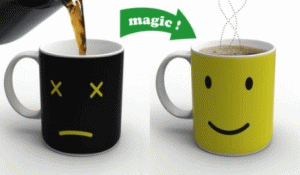 Funny Gift #8: Scrabble Magnets
If she's a Scrabble lover, help her dress up her home with one of her favorite games. Whether it's the Scrabble fridge magnets or Scrabble coaster, they're sure to delight.
The magnets come with a full set of Scrabble letters, so she can create words on her fridge and score big points.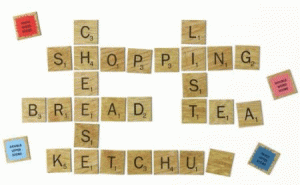 The Scrabble coasters are also a complete set of 56 tiles that includes 2 full alphabet sets. They're cardboard pub-style coasters, but still definitely provide hours and hours of fun.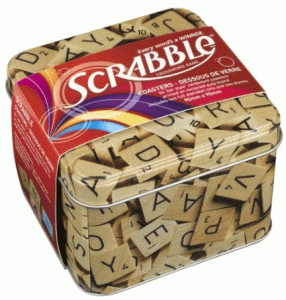 There you have it, funny gifts for women this Christmas. Here's to a happy laughter filled holiday.
Our Favorite Tshirt Collection