Mixed Fruit Sorbet or Popsicles
The base ingredients of sorbet are simply sugar water and whatever you choose for flavoring. Because of this, you can turn practically anything into sorbet.
While this recipe is for a fruit based sorbet, don't be afraid to try out other flavors as well. You might enjoy coffee, hot chocolate, vanilla bean to name just a few.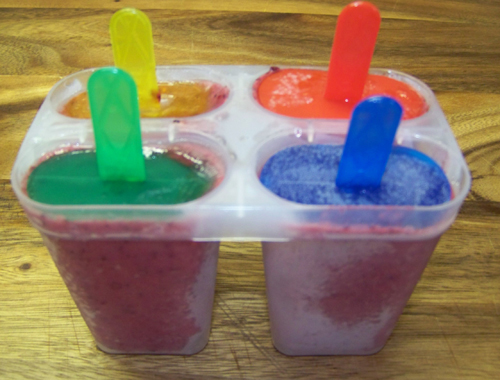 Ingredients:
3 cups frozen mixed berries
5 tablespoons lime juice
1 tablespoon lemon juice
3/4 cups sugar
1/4 cup water
Directions
In a small saucepan, bring water and sugar to a boil. Boil for 1-2 minutes or until sugar has disolved. Allow to cool completely.
Using your blender, blend sugar-water, lemon and lime juice and frozen mixed berries.
Transfer the mixture to an ice cream maker. Follow the instructions that came with your ice cream maker for making sorbet.
If you don't have an ice cream maker; pour mixture into a shallow dish, place dish in freezer, stir occasionally until sorbet reaches desired consistency.
Serve as sorbet or…
Make popsicles!
Before freezing, transfer equal amounts of mixture into popsicle molds. Freeze for 4 hours or overnight.
When ready to serve, run warm water over the molds for a few seconds to loosen popsicle from mold.
Our Favorite Tshirt Collection