How to Make Pulled Pork Sandwiches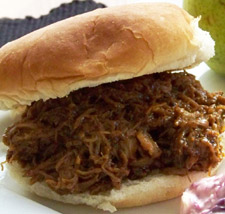 Pulled pork sandwiches are delicious and easy to make. We use a pressure cooker in this recipe, but I've made pork sandwiches just by taking a leftover pork roast and cooking it with the barbecue sauce on the stove over low heat for about an hour. Great results come from that method too.
Of course, this pressure cooker recipe will make sure you can eat your pulled pork sandwiches on the very day you start making them. No need to wait!
We're using our Carolina Barbecue Sauce Recipe for this one too.
Ingredients
4-5 pound pork shoulder (butt roast)
2-3 Vidalia onions
5-6 garlic cloves (1/4 cup minced garlic)
3 cups of water
2 Tbsp. cooking oil
¼ tsp. Salt
¼ tsp. Pepper
Carolina Barbecue Sauce
How to Make It:
On the stove top, over medium-high heat, add the oil to the pressure cooker. Once the oil has heated, add the pork shoulder and cook for about 2-3 minutes or until the bottom side is brown.
Using cooking tongs or grilling forks rotate the pork shoulder so that all sides brown evenly.
While the meat is cooking, peel your onions and garlic. One garlic head should contain 5-6 garlic cloves so you can buy one head and use however many cloves you get out of it as we have here.
Once peeled, slice the onions. Thickness isn't a concern as they will break down during cooking.
Once the pork shoulder has been browned on all sides, add the onions and garlic. Add the salt, pepper and water.
Depending on the size of your pork shoulder and the pressure cooker you're using, you may need to adjust the amount of water you use. You want enough water to cover about 1/3 – 1/2 of the pork shoulder.
Caution! Do not overfill your pressure cooker. Read the instructions that came with your model to determine how full it can be. Typically, it should be no more than 2/3 full to allow plenty of room for steam to build.
Attach the lid to your pressure cooker and bring the ingredients to a boil. Once you have a steady steam coming from the steam valve, flip the petcock closed or if yours is separate, set it on the steam valve.
At this point, you may need to reduce the heat as you don't want it to continue to build pressure. You just want it to maintain the pressure is has.
Now it's time to start the timer. You need to pressure the meat for about 1 hour. Remove from heat and allow it to slowly cool down and drop the pressure.
Once cooled, open the pot and drain the juices – reserving about ½ cup.
Place the meat on a platter or cooking sheet. Remove any remaining onion and garlic pieces or simply mince and add them back to the pan.
Using two forks pull the meat into shreds, discarding the bone and excess fat as you go. When finished, return the meat to the pressure cooker.
Reserve ½ cup of the Carolina BBQ sauce for those who like extra sauce on their sandwich. Pour the remaining sauce over the meat and mix well.
If the mixture seems a little dry, add some of the reserved juices to moisten.
Since the meat will have cooled while being pulled, you may want to warm it and the sauce over medium heat. Alternately, you can let it simmer over low heat until ready to serve.
Toast a dinner roll, hamburger bun or two slices of Texas toast or French bread. Heap each roll with pork. Add an extra dollop of BBQ sauce and/or coleslaw and enjoy. It's pictured below with our buttermilk coleslaw.
Our Favorite Tshirt Collection