Chiffon Pie Recipe – How to Make A Watermelon Chiffon Pie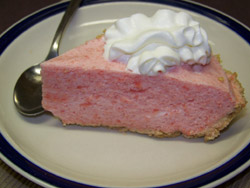 I love chiffon pie. The light and fluffiness is so hard to resist. This is an extra delicious recipe made with watermelon, which gives it a very light flavor.
Ingredients:
2 Tbsp. watermelon Jello powder
1/4 cup cold water
1/2 cup boiling water
2 cups pureed seedless watermelon
1/2 cup powdered confectioners' sugar
1 Tbsp. lemon juice
2 egg whites, stiffly-beaten
1 cup whipping cream, whipped (learn how to make fresh whipped cream)
One 10-inch prepared graham cracker crust
Whipped cream to garnish
How to Make It:
Add the Jell-O to the boiling water and mix until Jell-O crystals dissolve. Add the boiling water and cold water to the heat-proof bowl and stir.
Next add the confectioners' sugar. Slowly pour in the watermelon puree and stir well.
The final ingredient to add at this point is the lemon juice. Once you add it, stir it well.
At this point, you want the mixture to come to room temperature. Depending on whether you started with a room temperature melon or one that had been refrigerated, this may only take a few minutes or it could take a bit longer.
Once it reaches room temperature, refrigerate it until the mixture begins to thicken, about 20 minutes.
Once thickened, in a separate bowl, beat the egg whites until stiff and fold them into the mixture.
Next, do the same with the whipping cream.
Once everything is combined well, pour into prepared crust. Refrigerate until firm.
Garnish each serving with whipped topping.
Watermelon Chiffon pie is great served with meals that are heavy on flavorful sauces such as BBQ. The balance of spicy barbecue sauce on ribs or sandwiches with the airy consistency of chiffon and mild flavored watermelon makes for a great meal.
Enjoy!
Our Favorite Tshirt Collection