Meat and Cheese Platter Ideas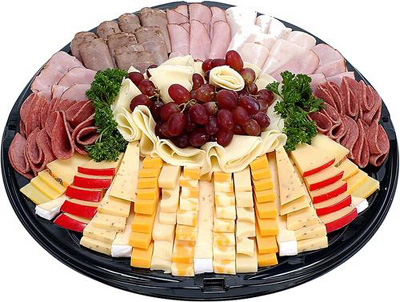 Who doesn't love a meat and cheese platter? Vegans and vegetarians, I guess. But outside of that, these platters can have appeal for just about anyone. I love putting elaborate platters for parties, but simpler ones for dinner.
Creating your own meat and cheese platter is all a matter of personal taste, availability and budget. So go ahead and make it how you like it and enjoy.
Meat Ideas
• Turkey
• Chicken
• Ham
• Salami
• Pepperoni
• Roast beef
• Pastrami
• Prosciutto
Cheese Ideas
• Cheddar
• Havarti
• Swiss
• Gouda
• Blue cheese
• Brie
• Cream cheese
• Other gourmet cheeses
Accompaniments
• Sliced veggies
• Slice fruits
• Bread
• Crackers
• And of course, wine
Assembling Your Platter
How you assemble your platter will depend on the meat and cheese you choose and how they're cut. Thinly sliced meats can be rolled up and arranged on the platter. Sliced cheese can be layers from the outside of the platter to the inside. Cubed cheeses can be arranged together.
Garnish with kale or parsley. Throw on some grapes for more visual appeal and color.
Our Favorite Tshirt Collection