Marble Loaf Cake – Recipe for You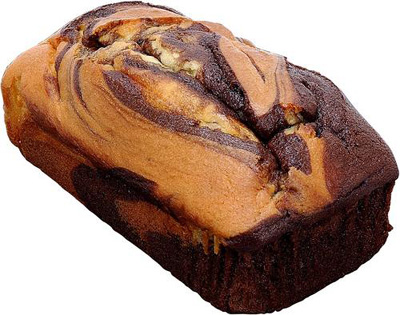 It's not loved quite as much as banana loaf in this house, but it's a close second. Personally, I have fond memories of the marble loaves my mom when I was a kid. I thought it was like magic when the colors swirled like that.
The marbling is created by dividing the batter in half and adding cacao to one half. It's very easy to do and creates a dramatic effect.
This loaf can be eaten fresh, but also freezes very well. You can even pre-slice it and include in lunches over the next few weeks.
This recipe makes 1 – 9"x5" loaf.
Ingredients:
• 1 ½ cups sugar
• 1 cup softened margarine
• 3 eggs
• 3 teaspoons vanilla
• 3 cups flour
• 1 teaspoon baking powder
• 1 cup milk
• ¼ cup unsweetened cacao powder, sifted
Preparation:
Preheat oven to 350 F.
Grease a 9" x 5" loaf pan and set aside.
Using an electric mixer, cream together the sugar and butter. Add eggs and vanilla and continuing mixing until well blended.
In a separate bowl, whisk together the flour and baking powder
Now you can start adding the dry mixture and milk into the butter and sugar mixture, but add just a little bit at a time to avoid big messes. Once the ingredients are wet, you can turn up your mixer and blend for about 2-3 more minutes.
Once the batter is ready, divide in half. Add the ¼ cup cacao powder to half the batter, but make sure you sift it beforehand, so it blends in well.
Now you're ready to add the batter to the loaf pan. Put a layer of vanilla, followed by a layer of chocolate and then continue until the batter is used up. Then, using a knife, cut through the batter in a variety of patterns to create a marbled effect with the batter.
Bake on the middle rack of your oven for about 50-60 minutes. You'll know when your loaf is done when you insert a toothpick in the middle and it comes out clean.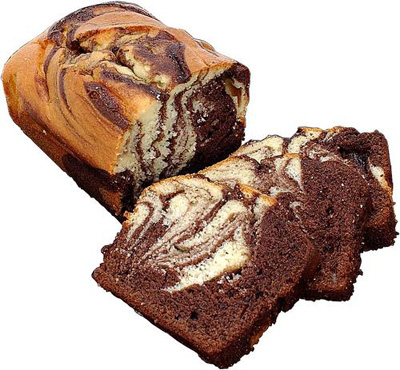 Our Favorite Tshirt Collection