Creamy Chocolate Frosting Recipe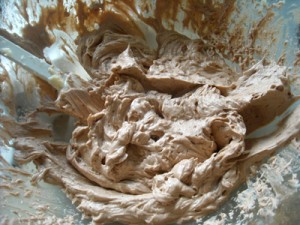 If there's one thing that ruin a perfectly good cake, it's a frosting that is too sweet and lacks a creamy texture. This recipe is guaranteed creamy and has just the right sweetness. I've complete sworn off confectioner's sugar-based icings because of this.
The frosting keeps well in the fridge for about 1 week. Just make sure to mix it well before using, so it will have a creamy texture again. We made this one chocolate which gives it a nice brown coloring, but you can use food coloring to create the color you desire.
This makes enough frosting to ice an 8" cake.
Ingredients:
• 1 cup milk
• ¼ cup flour
• 1 cup sugar
• 1 cup butter
• 2 teaspoons vanilla
• 2 tablespoons cacao
Preparation:
In a medium saucepan over medium-high heat, whisk the flour and milk until thickened. Once it is thickened, set it aside and allow to cool.
In a large bowl, cream the butter and vanilla with an electric mixer. Add the flour and milk mixture and continue to beat with the mixer until the icing is light and fluffy. Add the cacao or a food coloring of your choice part way through the mixing process.
Our Favorite Tshirt Collection