Baked Chicken Breast Recipe: Basil, Lemon and Pepper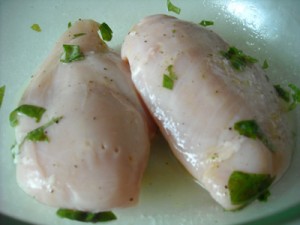 Boneless and skinless chicken breasts are a healthier alternative than chicken with skin, but they can turn out a bit dry if they're not nicely marinated first.
This easy recipe will make it easy for you to make a juicy chicken breast with nice flavor.
This marinade is enough to marinate about 4-6 breasts, so make as much as you need.
Ingredients for Marinade:
• ¼ cup lemon juice
• ¼ cup olive oil
• ¼ cup fresh basil
• Pepper to taste
Preparation:
Add the ingredients to a wide and shallow dish that all your breasts will fit in. Mix until combined and add the breast and turn them to coat fully. Cover and place the dish in the refrigerator for a few hours or overnight.
Preheat oven to 375 F. Place the breasts on a nonstick baking sheet and bake on the middle rack for about 30 minutes, but make sure the inside is no longer pink and the breast reaches an internal temperature of 165 F is met. Be sure to brush the chicken with its juices during the cooking process for a nice crispier outside.
Serve with rice or potatoes and your favorite steamed vegetables.
Our Favorite Tshirt Collection