Simple Red Velvet Cake Recipe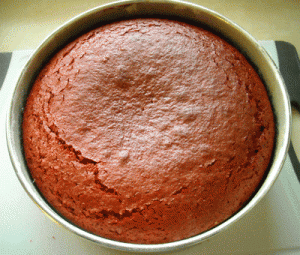 If you've ever wanted to make a red velvet cake, you probably noticed that many of the recipes seem quite complicated. Well, making a red velvet cake needn't be any trickier than baking a regular cake and this recipe proves it.
Many recipes include natural beet root to create the red coloring, but the color may not be as intense with food coloring. This recipe uses concentrated Wilton food coloring gel for a more dramatic red effect. Of course, I commend anyone for using a more natural approach to their baking, but to me, the small amount of food coloring required isn't a big deal to me.
Wilton food coloring can be purchased at cake decorating stores and other specialty shops. If you just have regular liquid food coloring, try using about 2 tablespoons to get the desired color.
Ingredients:
• 2 eggs
• 1 cup buttermilk
• 1 cup vegetable oil
• 1 teaspoon vanilla
• 1 teaspoon vinegar
• 2 ½ cups all-purpose flour
• 1 cup sugar
• 1 teaspoon baking powder
• 2 tablespoons cacao powder
• 1 teaspoon salt
• Wilton red food coloring gel and a toothpick
Preparation:
Preheat oven to 350 F.
Lightly grease and flour an 8" round cake pan.
In a large bowl, combine the eggs, buttermilk, vegetable oil, vanilla and vinegar.
In a medium bowl combine the dry ingredients including flour, sugar, baking powder, cacao powder and salt. Stir until well combined.
Add the mixed dry ingredients into the large bowl with the wet ingredients. Using an electric mixer, beat for about 1 minute. Then, using a toothpick, start adding food coloring to your cake until you reach the desired color. Continue to beat the batter with a mixer for about 1 more minute.
Pour the batter into your greased and floured cake pan. Bake for about 45-50 minutes. Your cake is done when it you insert a toothpick in the center and it comes out clean.
Our Favorite Tshirt Collection