Donair Sandwich – Homemade and Delicious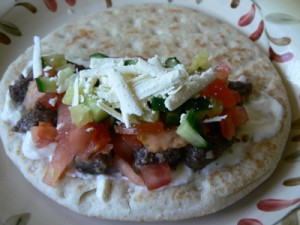 This is a new favorite in this home and we always have plenty of shredded feta and diced cucumbers and tomatoes for whenever the mood strikes.
Even if you don't have a rotating spit, you can still make a pretty tasty donair from home, using a steak, some marinade and your oven. Of course, you can also make this a vegetarian meal too, so no meat is really required.
Add the meat to a warmed pita, top with tzatziki, hummus, tomato, cucumber, olives, shredded lettuce and feta and you've got yourself a delicious donair or "doner" sandwich.
This recipe requires time for marinating (a few hours to overnight) and about 45 minutes to cook the meat. It make enough meat for about 4-6 sandwiches.
Ingredients for Marinade:
• ¼ cup red wine vinegar
• ¼ cup olive oil
• 1 tablespoon lemon juice
• ¼ teaspoon cinnamon
• ¼ teaspoon ground cloves
• ¼ teaspoon nutmeg
• 1 clove garlic, minced
• Salt and pepper to taste.
• 2 pounds steak (inexpensive cuts work well as you'll be thinly slicing and marinating them)
Slice the steak into very thin slices.
Place all the marinade ingredients into a bowl or container with a lid and mix well. Add the steak and refrigerate for a few hours or overnight.
Place the marinade and steak into an oven-safe dish with a lid and place in the oven at 350 F for about 45 minutes. After 45 minutes, remove the steak from the marinade and prepare to serve.
Other Ingredients:
• Diced cucumber
• Diced tomato
• Shredded lettuce
• Sliced black olives
• Tzatziki
• Hummus
• Pita bread (get the thick bread, not the thin hollow pita shells)
• Shredded feta
You can exercise your creativity on how you'd like to make your sandwich, but here's a suggestion you can't go wrong with.
Heat the pita bread in a 350 F oven for about 8 minutes.
Spread tzatziki and hummus on the bread. One one side, top with a desired amount of meat, cucumber, tomato, olives, lettuce and feta. Then fold in half and enjoy.
Our Favorite Tshirt Collection