Scalloped Potatoes with Leftover Cheese Sauce and Potatoes
Recently, I shared a recipe for cheese sauce. We always have leftover sauce and it usually goes to waste. This time, I was determined to make something delicious out of it. I also happened to have some leftover boiled potatoes, so I was golden.
NOTE: If you don`t have leftover potatoes, you can boil some potatoes and allow them to cool before thinly slicing.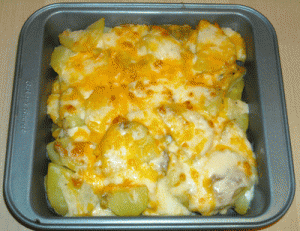 All I did was place half the potatoes on a greased baking dish and then half the cheese sauce. I repeated that once more and baked in the oven for about 25 minutes. In the last 10 minutes of baking, I topped with more shredded cheese.
It was so good. Even my son who claims to hate cheese gobbled this one up.
Our Favorite Tshirt Collection