Pumpkin Muffins: Healthy — ish
Now that we have a bunch of fresh pumpkin puree, it's time to use it. This time, I'd like to share this recipe for pumpkin muffins. While I'm not foolish enough to think muffins are totally healthy, this recipe does have reduced sugar and whole wheat flour. You could probably just use 1 egg or substitute apple sauce for one of the eggs if you wanted.
Or seriously, if you're not really into the health thing, make some cream cheese dressing and put a big dollop on these babies. Totally delicious!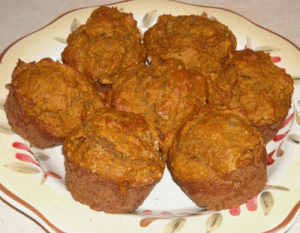 Ingredients:
•    2 1/2 cups whole wheat flour
•    1/4 cup sugar
•    2 teaspoons baking soda
•    1/2 teaspoon baking powder
•    1/2 teaspoon ground cloves
•    1 teaspoons ground cinnamon
•    1/2 teaspoon ground nutmeg
•    1/2 teaspoon salt
•    2 cups fresh pumpkin puree
•    2 eggs
•    1/3 cup vegetable oil
•    1 tsp vanilla
Also, keep on hand measuring cups and spoons, a large and medium mixing bowl, whisk, large mixing spoon, ladle and 2 muffin pans.
Serves: Makes 12 muffins
Preheat your oven to 350 F.
Grease the Muffin Pans
Grease the muffin pans using oil or butter. If you prefer, use cooking spray, but make sure the muffin pans are greased or your muffins may stick.
Combine the Dry Ingredients
In a large mixing bowl, whisk together the flour, sugar, baking powder, baking soda, cinnamon, cloves, nutmeg and salt.
Combine the Wet Ingredients
In a medium mixing bowl, combine pumpkin puree, 2 eggs, vegetable oil and vanilla.
Mix All Ingredients
Add the wet ingredients to the large bowl of dry ingredients. Stir until fully combined.
Bake
Using a small ladle, fill the muffin tins with batter. Bake for about 20 minutes. Muffins are done when you press your finger lightly in the middle and the muffin springs back. If it stays in place, the muffins are not yet done.
Our Favorite Tshirt Collection