Selling on Etsy – Step-by-Step Tutorial
Step 2: Click Sell
Click the "Sell" button to begin the process of registering yourself as a seller.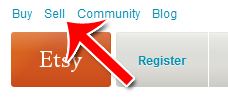 Step 3: Click "Sell on Etsy"
When you first click Sell, you'll be taken to a page with basic information about becoming a seller on Etsy.
To continue to registration process, click the "Sell on Etsy" button in the upper right.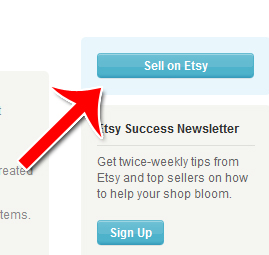 Step 4: Fill Out Basic Information
Fill out the basic information Etsy needs from you.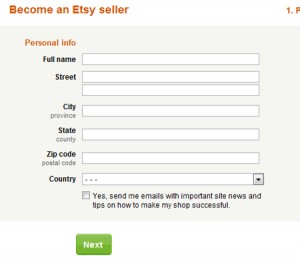 Step 5: Credit Card Information
Enter your credit card information. Etsy needs this to ensure that your card works for paying listing fees.
Once you press enter, Etsy will charge you a $1.01 activation charge. If the charge goes through, Etsy knows your card works.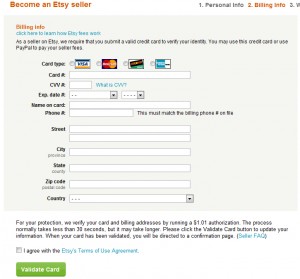 Step 6: Start the Listing Process
Once your card is validated, you'll see the confirmation page.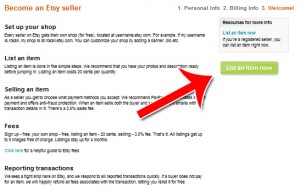 Click on "List an item now" to continue.
Step 7: Select Your Payment Methods
Before you create your listing, you need to first select what payment options you can accept.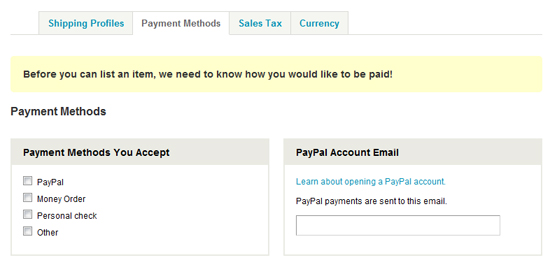 Most buyers will choose to pay by PayPal. If you don't already have a PayPal account, it really pays to open one.
If you choose to accept personal checks and money orders, you'll also need to enter your shipping address.
Once you've selected your payment method, click on "list your first item" to continue.

Step 8: Enter Description
Choose a snazzy title to catch your customer's attention.
Enter a detailed description of your item. Don't assume that the pictures speak for themselves. Yes, pictures go a long way, but it helps to assume you have no pictures with your listing when writing your description.
Detail is the key.
Finally, list out the materials used to make your product. Yes, this actually matters, as users do search by materials.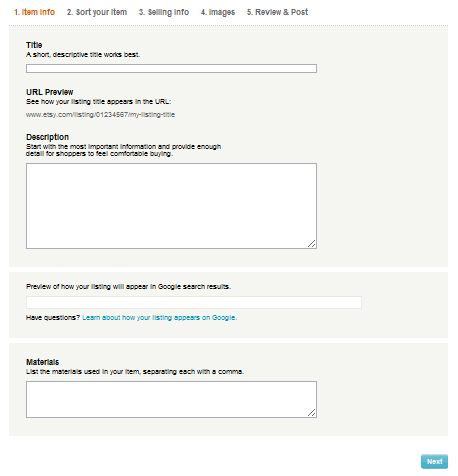 Step 9: Choose Categories and Tags
Select your categories. First select the top level, then the sub-level then the sub-sub-level. Then, enter tags that describe your item. Choose descriptive tags to help others find your items. Use all 14 tags to maximize exposure.
Step 10: Choose Pricing and Shipping
Enter the price for your product.
Enter the shop section you want your item listed in. In the beginning, you'll have to create new sections for each different kind of item.
Finally, you'll need to set your shipping prices. You can set different prices for different regions and countries.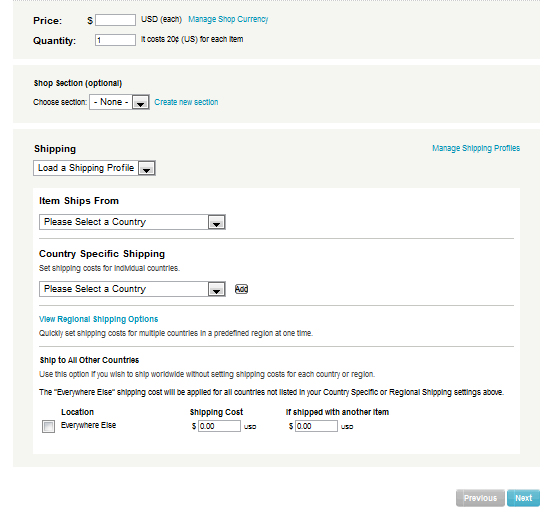 Step 11: Add Images
Click "Choose File" to upload images from your computer. Click upload to upload.
Step 12: Review and Finish
Finally, review all the details of your listings. If everything is in order, click "Finish" to list your item.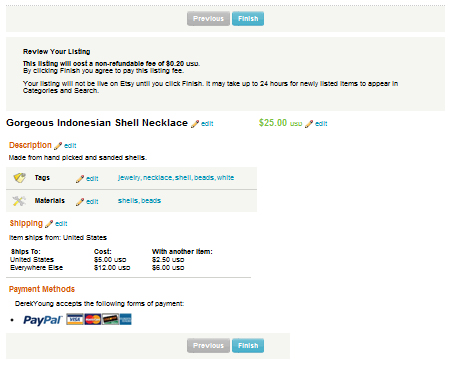 Those are the basics of selling on Etsy. You now know how to register as a seller, verify your billing address, setup payment methods and list an item. Just rinse and repeat the listing process for every item you want to sell.
Our Favorite Tshirt Collection