Czech Dumplings – Easy Recipe
4 cup flour – you can easily use whole wheat flour if you prefer.
1 package yeast
½ teaspoon salt
½ teaspoon sugar
2 eggs, room temperature
1 cup milk, room temperature
Also have on hand: Bread maker, measuring cup, crockpot and ½ teaspoon measuring spoon for preparation. For boiling dumplings, you'll need a large pot, water, forks to remove dumplings from hot water, cutting board and dental floss or thread to cut the dumplings.
Makes: 2 loaves, Approximately 20 sliced dumplings
Prep Time: 2 hours 25 minutes (including 1 hour 50 minutes in bread maker and additional 20 minutes to rise)
Cook Time: 20 minutes
Step 1: Add Ingredients to the Bread Maker
NOTE: It's important to add the dry ingredients to the bread maker first and add the wet ingredients to the top.
Start by adding the 4 cups flour to the bread maker.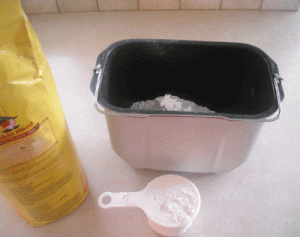 Make a small well in the center of the flour to add remaining ingredients.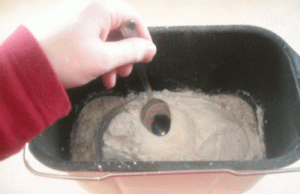 Then add the ½ teaspoon each of salt and sugar and the yeast.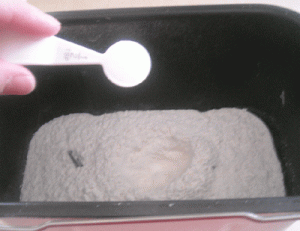 Step 2: Add Wet Ingredients
And finally, add the eggs and milk on top of the dry ingredients.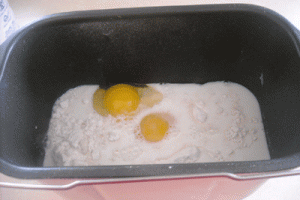 Step 3: Set the Bread Maker
Next, place the bread pan into your bread maker, if it isn't there already and set your bread maker to the "Dough" setting.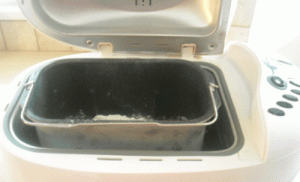 The setting will vary machine to machine, so check your bread maker's instructions. This setting will mix and let the dough rise, making it ready to form into loaves to rise one more time.
Step 5: Form Loaves & Rise One More Time
Once your bread machine lets you know the dough is ready, remove it from the machine and form it into two loaves. Sprinkle a little flour as you work, to avoid having the dough stick too much.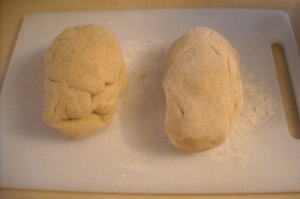 Cover the loaves with a cloth and allow to rise for another 15-20 minutes. You can start preparing the boiling water at this time.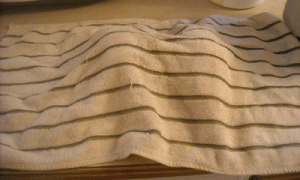 Step 6: Boil Water
Once the dough is rising for the second time, you can start boiling the water on a high setting. Depending on the size of your pot, you may have to boil each loaf separately.
Once the water has started boiling, carefully place the loaf or if you have room, both loaves in.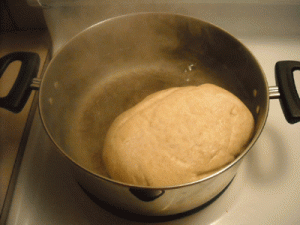 Boil for 10 minutes and then flip the loaf to boil 10 more minutes on the other side.
Step 7: Get Ready to Serve
Once the loaf is ready, take it out of the boiling water and place it on a flat surface or cutting board. Loaf should be cut right away or pierced to let steam escape.
A knife shouldn't be used to cut the dumplings as the dough is too sticky. Use a piece of thread or dental floss, wrap it under the loaf and then cross…gently slicing the pieces into your desired thickness.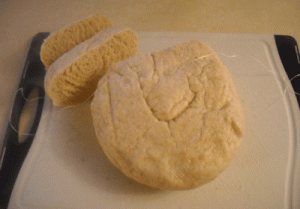 Our Favorite Tshirt Collection