How to Save a Search on eBay
If you plan to look for a certain type of item later or it's something you regularly purchase, you might want to save your search. This will allow you, with a few clicks of your mouse, to see the current listings for a particular search.
You can save a search anytime you make one. You can see the "Save search" link at the bottom right of the image below.

When you save a search, it gives you an option to name the search whatever you'd like and to get daily email notifications: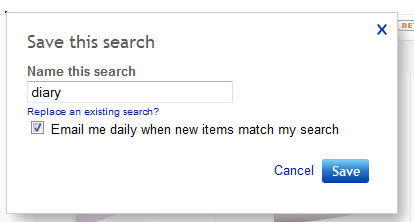 You can view your searches in "My eBay" anytime. Just click "Saved searches" from the drop down:
You'll then be taken to a list of saved searches:

As you can see, these two features make it impossible for you to lose track of what you want to buy and what you buy regularly on eBay.
eBay Shopping Tutorial Links
Our Favorite Tshirt Collection