How to Add Items to an eBay Watch List
The great thing about eBay is that you never have to lose track of items you've found and you can always find more of what you like later by using the "Watch This Item" and "Save Search" features. Let's go over these because if you want great deals on eBay, you need to know how to use them.
How to Watch Items
If you see an item you're interested in, but aren't sure you want to bid or buy, you can add the item to your account and "watch" it. That means, you can receive email notifications about the item and each time you log into your account, you can see the status of the item in your "My eBay" section.
Once you find an item you're interested in, you can find the watch options below the price of the item.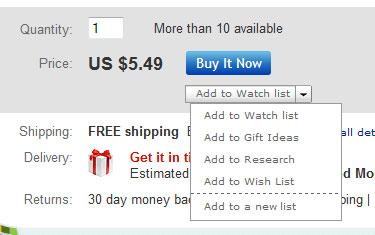 You can add the item to your "Watch list", "Gift ideas" (in case you are thinking of giving it to someone else) or your "Wish list". You can also add it to your "Research list".
And finally, you can add it to a "new list", which is a list you create. Click "Add to new list" and it will ask you to name your list and will save it for you.
When you go to "My Ebay", by default your "Watch list" is usually showing, but you can also see other list options on the left menu: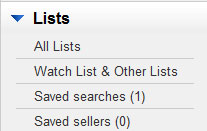 If you click "All Lists", it will take you to a page with all the items in your lists. You can also specify which list you want to look at from the drop down menu.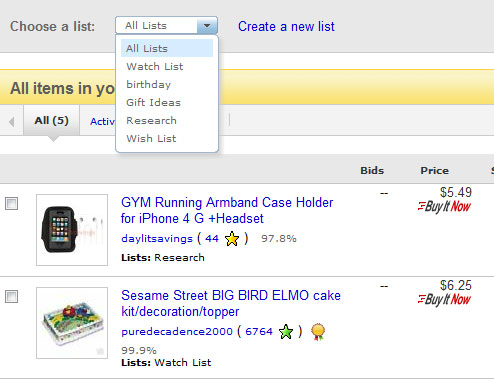 eBay Shopping Tutorial Links
Our Favorite Tshirt Collection