eBay Sniping Tips (Bid at the Last Second to Win!)
Often called eBay sniping, bidding at the last possible moment is the surest way of getting the item you want without paying too much. If you've ever bid too early, you know it just results in a bidding war and the item price goes too high. There are a number of programs on the market that allow you to schedule your "snipes" and we're going to look at one now.
Bidnapper allows you to sign up for a free trial, so you can see if sniping works for you. Sign up at Bidnapper.com.
Start Sniping
Bidnapper has an introductory video you can watch to give you an overview of how the site works. You can also follow along with our instructions. To get started, just click "Start Sniping Now":

On the next page, you have to enter some information about the item and your bid.

You have to get the auction number from eBay. You can find the item number on the ride side of an item listing: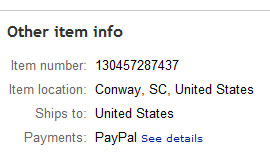 Go back to bidnapper.com and enter that information, plus your maximum bid.

Once you click "Snipe" in the bottom right corner, you'll see this item listed in your auctions:

You can delete the item anytime, you can change your bid, make notes or click to "view' the item on eBay. Once the auction is over, you can view the status on the far right side of the listing. In this case, we won!

All you need to now is proceed to eBay and pay for your item!\
eBay Shopping Tutorial Links
Our Favorite Tshirt Collection