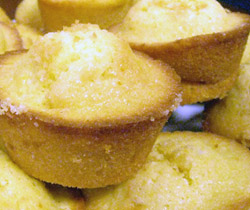 After you've followed our cupcake baking tips, it's time to get to decorating. Cupcake decorating can be as simple or as elaborate as you want.
Use your creativity, appeal to your individual taste and have fun.
Always Use Cooled Cupcakes
Sometimes it's hard to wait, but make sure your cupcakes are completely cooled before you start decorating them. Otherwise your icing will melt.
How to Fill a Cupcake
Make your cupcake treat even more special by filling it. You can fill cupcakes with icing, mousse, Bavarian cream and more. You can fill a cupcake by using a decorator bag and a long, round decorating tip.
We use a Wilton 230 tip for filling cupcakes.
Simply inject the tip into the cupcake straight in at a 90 degree angle to the cupcake, being careful not to go to deep. Squeeze gently and stop as you start to see the top of the cupcake rise and the tip is near the top. Remove the tip after you've stopped apply pressure.
Basic Cupcake Swirl Icing Top
Many decorated cupcakes start with a swirl of icing on top. You can do this in white or use food coloring to get the color you want. You can even purchase spray colors that allow you to spray on color after you've completed your swirl.
To make a swirl, use a large swirl tip. We are using Wilton 1M.
Fill your decorator bag with the icing of your choice, add the 1M or other swirl tip. Place the tip at a 90 degree angle to the cupcake and start from the side creating a circle. Continue to work towards the middle. When you get to the middle, stop applying pressure and pull the tip away.
Cupcake Topping Ideas
Now, let's get to the fun stuff. You can decorate cupcakes with a variety of things. Here are just a few:
• Icing
• Fresh Fruit
• Dried Fruit
• Jam and other Preserves
• Flowers (just make sure they are food safe)
• Sprinkles and Other Candies
• Nuts and Seeds
• Chocolate Shavings
• Coconut Shavings
• Melted Chocolate
• Whipped Cream
• Mouse
• Custard, Pudding and Other Creamy Toppings
• Peanut Butter
• Mini Marshmallows
• Cookies
• Cookie Crumbs
• Edible Dust
• Edible Spray
• Meringue
If it suits your fancy, go for it. It doesn't matter if you decorate a little or a lot, it's all a matter of personal taste and preference.
Our Favorite Tshirt Collection