Teach Kids to Cook: Get Them Involved This Easter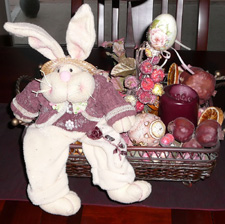 There's no need to do everything yourself this Easter. You've got helping hands right under your roof. And apart from paying a bit of allowance here and there, this help comes absolutely free. Getting your kids involved in Easter preparations is good for you and good for them.
Decide on the dishes you want to make and serve as your Easter meal and assign chores to the child that are age appropriate. Obviously for safety, a very young child should not use an oven or stove. However, he/she may be able to help with preparing the salad, opening cans, making dessert or arranging food on a plate.
While you're preparing the main entrée, ask your toddler to begin tearing the greens for a tossed salad. With a plastic vegetable knife, an older child may be able to cut up cucumber, tomato and other softer salad ingredients. Provide the ingredients to make homemade salad dressing using oil, vinegar and seasonings and take turns shaking the dressing to mix.
Let the child have fun preparing Bunny Pears for the family. On small plates, place a canned pear half with the narrow end at the top. Have the child press two raisins into the pears as eyes. Add a cinnamon red hot for the nose and two almonds as the bunny's ears. Add a spoon of cottage cheese to the larger end for the cottony tail. Refrigerate the pears until they're ready to eat.
If the child is old enough, ask them to peel and slice potatoes. If mashing, have the child set a timer for the cook time. Once the potatoes are done, drain the scalding water and then let the child add the ingredients and mix or mash.
Prepare cupcakes ahead of time and have the child decorate them. Food coloring can be added to plain vanilla frosting or you can use flavored frosting. Provide candies such as licorice ropes, jelly beans and cinnamon candy to decorate the tops of the frosted cupcakes. Add a few drops of green food coloring to shredded coconut, mix together and sprinkle on the cupcakes to resemble grass.
A child who can read and follow directions can be entrusted with other dishes. Provide the ingredients they need and allow them to do the rest. You may be surprised to find that your child actually enjoys cooking and is quite good at it.
Learning how to let go and involve your child in holiday meal preparation isn't easy, but vow to make this year different! Have fun and you'll see that the end result is well worth the effort for you and your child.
Our Favorite Tshirt Collection