Slow Cooker Vegetable Beef Stew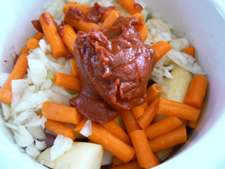 A stew cooked all day in the slow cooker is not only an easy meal, but it's delicious and comforting as well. I put this one on when we have a busy day planned and want to end the day with a home-cooked meal.
Ingredients:
1 1/2 pounds stewing beef, cubed
4 russet potatoes, scrubbed, peeled and cut in quarters
2 chopped onions
4 carrots, peeled and cut in chunky pieces
2 cloves garlic, finely chopped or minced
1 small can of tomato paste
2 cups beef stock
2 tablespoons Worcestershire
2 bay leaves
To Add 5 Minutes Before Cooking is Done:
1 cup frozen corn
1 cup frozen peas
Salt and pepper, to taste
2 tablespoons flour
3 tablespoons water
Add the first list of ingredients to your slow cooker and turn on low. Cook for about 6-8 hours, or until everything is tender. A lot of recipes call for really long cooking times, but then the stew is complete mush and I'm not a fan myself.
About 5 minutes before you're done cooking, add the corn and peas. Mix the flour with water until it forms a smooth paste. Add it to the stew and let the stew cook on high temperature, with the lid removed.
Remove the bay leaves and then enjoy!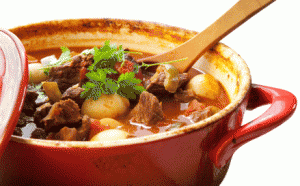 Our Favorite Tshirt Collection