Oven-Baked Barbecue Chicken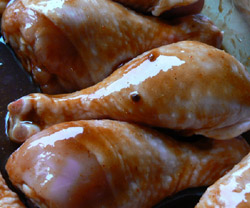 This is an amazing barbecue chicken recipe that turns out fall-of-the-bone tender. From start to finish, it's ready in about 1 hour and 45 minutes. This recipe makes about 12 or so pieces of chicken. In this case, I made 7 drumsticks and 6 thighs.
Ingredients:
1/3 cup ketchup
1/3 cup brown sugar
4 tablespoons vinegar
2 tablespoons lemon juice
4 tablespoons Worcestershire sauce
1/2 teaspoon salt
2 teaspoons dry mustard
1 teaspoon chili powder
12 pieces of chicken
How to Make It:
Preheat oven to 500 F.
This is so easy to make, it's hard to believe. Some people will cook the sauce before putting the chicken in, but I just don't think it's necessary. Simply add all the ingredients into a bowl and mix well.
Place the chicken in an oven-safe dish (or 2 dishes, if you need extra room). Pour  the sauce all over and, using a pastry brush, you can make sure the chicken is fully coated.
Cover the chicken tightly with foil and place in oven. Bake at 500 F for about 15 minutes. After 15 minutes, turn the temperature down to 300 F and continue to bake for 1 hour. After 1 hour, remove the foil and turn the temperature back up to 400 F and bake for another 15 minutes. If you like a crispier outside, you might want to place the oven on broil for the last couple of minutes.
Let the chicken stand for about 5-10 minutes before serving. It will keep the chicken from completely falling apart as you try to serve it.
Our Favorite Tshirt Collection