Essential Grilling Tools and Accessories – Tips for You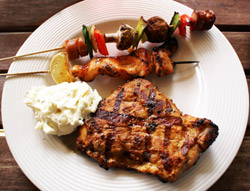 We grill all year round at our house, but this is the time of year when we kick it up a notch. I love preparing a whole meal outdoors, reducing the amount of dishes to clean and when we can eat outside too, I don't even have to sweep the floor. It's a win-win for sure.
Of course, if you're going to be serious about your grilling at all, you need to have the right tools for the job. Here are the items you need for grilling if you plan to make whole meals outside.

Spatula – Long handle and an extra wide blade.  Thicker steel is better for sturdiness and durability.

Tongs – Should be more than 12" long and spring loaded for moving food around.  Extra long tongs should be used if coals are to be moved around.

Mesh Basket – You can add anything in your basket that is too small to put right on the grill itself.  Many people use them for side dishes such as vegetables or seafood along with the main meat of the meal.

Wire Brush – There are many types of wire brushes available.  For the most part, these brushes are cheap enough to be considered disposable.  Many people have their own techniques for cleaning the grills and some will go through 5 brushes a year while others will only use 1 or 2.  However, it is best to use the long handle brushes to save that hair on the knuckles.

Skewers – You can add a multitude of food items on a skewer.  You know what tastes good together so load them up with your likings.  The differences between skewers are some are made of steel, some are wooden and some are flexible wire cables.  The type you use is entirely up to you.  Some say the skewer type you use sets a higher or lower class to the meal, but it's up to you.
Look for tools that are good quality because cheap ones simply just break after a while. Also be aware that some tools might require hand washing and shouldn't be added to the dishwasher, particularly if they have wooden handles.
Our Favorite Tshirt Collection