Easy Irish Soda Bread Recipe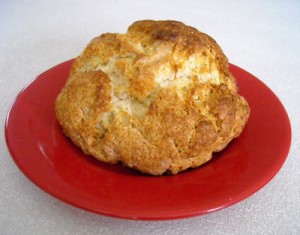 The first time I made this for my family, they went nuts. They totally loved it. It's a bit crumbly and messy, but it's worth it in this case. It is also the perfect complement to Irish Potato Soup.
This is a very simple recipe and I love it because there is no yeast or rising time required.
Ingredients for Bread:
• 4 cups flour (all-purpose or whole wheat, both work great)
• ¼ cup sugar
• 2 teaspoons baking soda
• 1 tablespoon baking powder
• ¼ teaspoon salt
• ½ cup softened butter
• 1 cup buttermilk
• 1 egg
Ingredients for Bread Topping:
• 3 tablespoons melted butter
• 3 tablespoons buttermilk
Preparation:
Preheat oven to 375 F.
In a large bowl mix the dry ingredients including the flour, sugar, baking soda, baking powder and salt.
Add the softened butter and continue to mix. Using a pastry cutter makes the process of cutting in the butter and other wet ingredients much easier.
Once the butter is distributed throughout the flour, add the buttermilk and egg, continuing to work with the pastry cutter. Once, the ingredients are well mixed, start working the dough with your hands and knead it into a round-shaped loaf.
Place the loaf on a non-stick baking surface. At this point, you can combine the 3 tablespoons of butter and buttermilk to form a topping for the bread. Using a pastry brush, brush the mixture all over the loaf.
Now it's time to put the loaf in the oven on the middle rack. Bake for about 50 minutes. You can tell when it's done when it's nicely browned and a toothpick inserted in the center comes out clean.
Allow to cool slightly, but do try to enjoy it warm. It's delicious!
Our Favorite Tshirt Collection