Buttermilk Coleslaw Recipe – This is a Good One!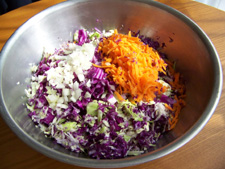 Some say this coleslaw recipe is almost like KFC's, but personally I think it's way better. It's not pictured this way, but the addition of apples and chopped walnuts makes it even more divine.
Ingredients:
4 cups red cabbage, shredded (about 1/2 head)
4 cups green cabbage, shredded (about 1/2 head)
¼ cup carrots, shredded (1-2 carrots)
2 Tbsp. onion, finely chopped
2/3 cup granulated sugar
½ tsp. salt
1/8 tsp. pepper
¼ cup milk
¼ cup buttermilk
½ cup mayonnaise
1½ Tbsp. white vinegar
2½ Tbsp. lemon juice
How to Make It:
Shred the cabbage using a food chopper or food process. I usually use my Pampered Chef Food Chopper that I can't live without.
Shred the carrot(s) using a cheese grater and dice the onion. Add these to the cabbage mix.
In a separate bowl, combine the sugar, salt and pepper using a whisk. Next, add the milk and buttermilk to the bowl. Finally, add the vinegar, lemon juice and mayonnaise.
Mix until smooth. Pour over the slaw mix and fold until everything is well coated.
Cover and refrigerate for 3 hours or overnight before serving.
Note: If you use red cabbage, expect that it will naturally dye your coleslaw a light shade of pink. This does not change the flavor!
If you prefer not to have pink slaw, either rinse and dry your cabbage after shredding, start with pre-shredded slaw mix purchased from a store (these have been rinsed and are slightly dry) or skip using the red cabbage.
Some tasty additions for this recipe. Choose one or two if you'd like…about 1/4 cup each:
• Green peppers
• Raisins
• Apples
• Almonds, pecans or peanuts
• Celery
• Pimentos
• Toasted sesame seeds or shelled sunflower seeds
• Pineapple
• Shredded cheese
For extra seasoning, add a 1/8 tsp. of any of the following:
• Onion powder
• Dry mustard
• Celery seed
• Dill weed
• Parsley
Enjoy at your next barbecue, with fried chicken or even by itself.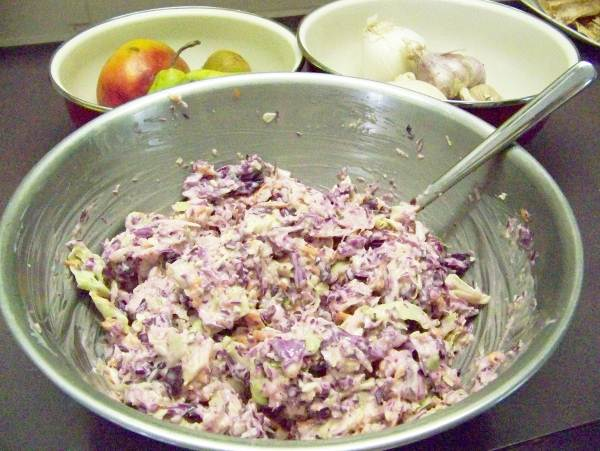 Our Favorite Tshirt Collection